The customer journey in e-commerce describes the customer's path, through touchpoints, to their choice to purchase a product on your website or app. A client doesn't normally decide to buy a product immediately after discovering it for the very first time. Usually, consumers look at an item or a service numerous times prior to purchase. Customer journey in e-commerce is a process that consists of all the contacts that buyer persona had with your e-commerce business before becoming your customer. Customer journey starts from the moment a buyer identifies their need until they purchase a product or service. 
It is extremely challenging to map the customer journey in offline marketing because it is generally difficult to determine where each site visitor discovered a shop or a product. Feasible factors can include recommendations from friends or family, a leaflet, or a newspaper advertisement. But customer journey in e-commerce, is easier to track, as the contact points of any prospective consumers for a product and service can be tracked explicitly with suitable monitoring tools, even throughout different channels.
Customer journey in e-commerce example #
An amateur handyman discovers a new drill on the Internet, and he quite likes that tool. His interest is growing. He continues to research the device further on the Internet and reads about other amateur handyman's experience with this tool, i.e., he is looking for social proof. Finally, a handyman visits the manufacturer's website to find out where he can buy a new drill, goes to an online store and orders the product.
Purpose of the customer journey in e-commerce #
Knowing the process, your potential customer goes through before becoming your buyer will help you multiply the number of people that will finish this e-commerce journey successfully, meaning they will become the customer. Every contact made with your business or your products or services is considered a touchpoint – a structural element of the customer journey.
When you can identify all the touchpoints of your customer's journey, you can use it to find out where people are finding out about your product, which touchpoints they engage with the most, and use that information to your advantage. In other words, the customer journey helps you build a strategy to improve the buying process by improving your advertising and visibility on specific key points.
The objective of assessing and mapping the consumer trip is to figure out more about consumer actions. As a result, the e-commerce customer journey can be better designed, resulting in a boost in the conversion rate. The relationship between different touchpoints can additionally be examined. Cross-domain monitoring or cross-device tracking can assist in analyzing or mapping the journey. Cross-device tracking is a valuable tool for acquiring insights and makes it possible to discover what device the potential client used to access the site and in what order.
Depending on the readily available data, it may be challenging to determine which touchpoint resulted in a conversion. Every touchpoint typically contributes to the client's acquisition decision. If the consumer hadn't become aware of the item at the very first touchpoint, they might never have learned about it in any way. Every touchpoint contributes to a degree to the final conversion, and this is called attribution modeling. The customer journey analysis can cause problems in online marketing due to information defense. The customer journey can not be reconstructed explicitly if a customer deletes their cookies or uses a device that avoids monitoring. The mix of various information is just allowed in specific situations.
Touchpoints of the e-commerce customer journey #
Various sorts of media can be considered communication and also contact factors. There are offline advertising and marketing media such as:
TV advertisements
Radio shows
Newspaper clips
Advertisements on billboards
Nonetheless, these forms of advertising can not be tracked.
Online touchpoints are suitable for digital marketing, such as:
blog posts
banner ads
forums
social media posts
They can be made visible in the form of a customer journey in e-commerce.
How to follow a customer journey in e-commerce? #
Customer journey can be designed to help you gain more customers. To understand the path and channels your customers take to get your product online, you should do a mapping of your customer journey. This visual map is actually a diagram, or few of them, and it shows the phases of the trip your customers take while deciding to engage with your business online. For a map to be useful to you, it needs to be created based on data-driven research and it should be divided by 5 different phases of the journey.
5 phases of customer journey in e-commerce #
There are various techniques regarding exactly how to separate the phases of customer journey in e-commerce. However, usually the choice to buy is not typically made right away, and almost all customers go trough 5 phases. Initially, the target audience needs to be alerted about the product. In the following step, passion for the product has to be created. Only a long time after the information was obtained will a wish for the item develop, which preferably leads to a conversion. The concept resembles the AIDA model. The conversion does not necessarily need to be a purchase or order. Even the registration for an e-newsletter or asking for information can be a reasonable objective, depending on the individual goal.
There are various techniques regarding exactly how to separate the customer journey phases. However, the point is always the same. Each of these five phases represents where the buyer is in the decision-making process.
Phase 1: Awareness #
The consumer learns about your product or your business. At this stage, the business can discover where clients are originating from, what brought them to the company website, which pages they're landing on, and the path that took them from one page to another. This is an opportunity to discover what brand-new consumers require and what they are looking for on your website. This can be used to shape your marketing strategy in future.
Phase 2: Consideration #
The consumer finds a product they like, so they get more information, often on the official website. At this phase, management of your company should determine how to minimize bounce rates on primary web pages and obtain prospects to browse even more items. In addition, this phase offers an opportunity to find out how to shape a personalized targeting for your customers.
Phase 3: Decision #
This is the pre-purchase phase. The customer will either put the products on a wish list or leave the products in shopping cart. This stage is probably where a new advertising channel should get in the mix. You can try with sponsored adds on their social media for example. This third phase tells us that customer is interested, but is still not ready to make an order. That is why the smart move is to remind them of the missed opportunities and further communicate about the products to increase the likelihood of a purchase.
Phase 4: Purchase #
This phase is also called the conversion phase, as the consumer purchases an item during this phase. At this phase, the retail e-commerce business should start working on a long-term relationship with new customers and recognize chances to improve the services. It is helpful to run a survey after the purchase, as the feedback you get from the customers can help you individually improve the customer journey in e-commerce for your customers. Also, remember to set up a loyalty program to keep your customers returning for more purchases.
Phase 5: Involvement #
This phase includes every touchpoint that the customer makes after the first purchase. This includes:
new purchase
following your e-commerce business on social media
signing up for the newsletter
sharing posts and other resources from your e-commerce business
The last stage of the customer journey in e-commerce is where you should work on influencing your new customers to return and engage with your e-commerce business again. In this phase, you should work on creating touchpoints that will make the customers meet the brand story of your e-commerce business and fall in love with it. This way, they will be talking about your business, offline and online, becoming, on the one hand, the ambassador of your business. Especially if they are talking about and showing your products online, this will create touchpoints for new potential customers that will get involved with the customer journey in e-commerce.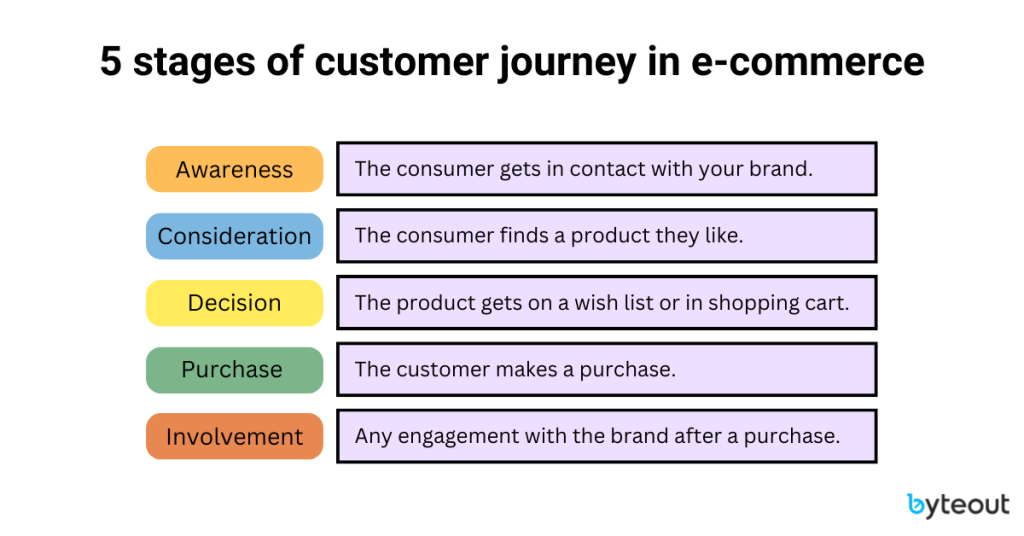 How to improve the customer journey in e-commerce #
More is needed for an e-commerce store to sell its items, no matter how impressive those products are. The online market is already overcrowded with so many choices. Nowadays, customers are looking for more than just a product. They want to feel connected with the brand.
For an e-commerce business, the best way to find out who customers are and to hear about them is to map the customer journey. Now, you are familiar with the general 5 stages of the customer journey in e-commerce. But here are the tips on how to use the information from the stages in your advance.
Create a customer journey map for an e-commerce business #
To make this process easier, the best way is to visualize all the stages to determine which touchpoints customers arrive at or leave the customer journey in e-commerce. Also, where customer is indecisive about turning the wish list into an order. These touchpoints could be considered key touchpoints, as they are crucial points where you need to improve your customer journey. For each of the five stages on the map, identify the key touchpoints and the customer's feelings, frustrations, pain points, goals, and/or aspirations. Based on this map, you will know where to make changes at each stage to make more sales.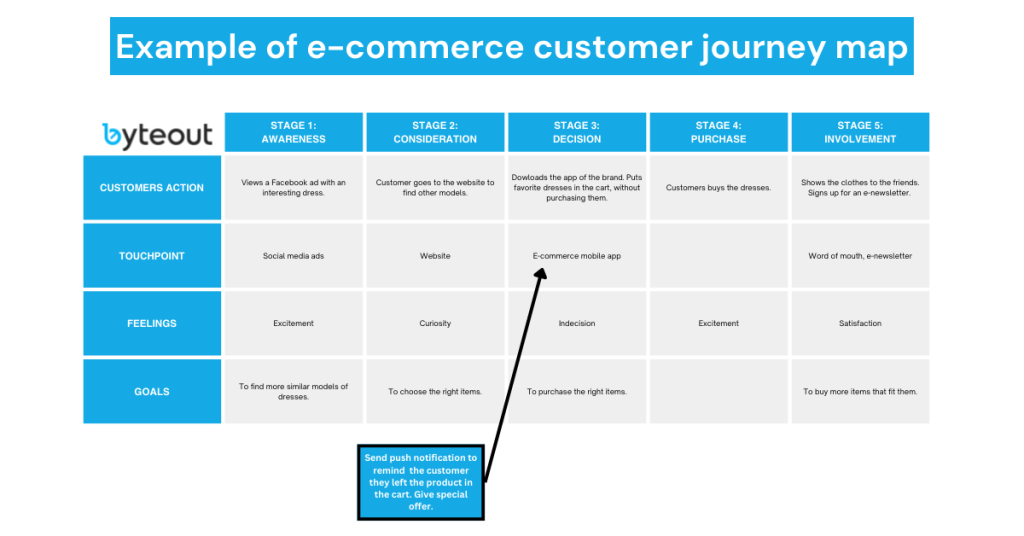 Define buyer persona #
Now that you have visualized the process, you need to figure out the profile of the customers that you need to target, based on the previous customers. So, you first need to answer a few questions:
Who are your current customers? What is their age range, gender, location, occupation, income level, and general interests?
How do they benefit from your product or products?
What are their frustrations, pain points, goals, and aspirations?
You should have a clear picture of your buyer persona.
Do data analysis #
Data analytics can help you find where you lose the customer in the journey. Use all available data about customer interactions with your e-commerce business to improve your customer journey in e-commerce. Use all the available tools on the internet that offer you analytics. It should help you discover the common paths for most customers during the journey and determine which ones result in the most purchases.
You can also track customer details such as mouse hover, clicks, and scroll if you want to find out how they usually interact with your e-commerce store. You can also track cart abandonment, automate email ads, and Facebook ads to bring customers to return to an abandoned cart with desired products.
Although you first created a customer journey map, you can always return and improve it based on the data you get from the analytics. There is no specific order of what should be created first (map, buyer persona, analytics). But the goal is to combine these elements and continuously improve the journey over and over again. All of this will help you improve the customer journey in e-commerce era.
Important factors for the customer journey in e-commerce #
No matter how good you map all the phases of customer journey in e-commerce, if your website is loading for two long you will lose potential customers. That is why having an e-commerce mobile app is a good solution, as loading time is way faster for mobile apps then for websites. Also, users are looking for seamless experience while scrolling trough e-commerce market place, so make sure to invest in good UX/UI design of you e-commerce business. Now, go and improve your e-commerce presence, work on the touchpoints and the customer journey in e-commerce will bring you many new and returning customers.
Do you want to learn more about e-commerce? Continue reading about → Omnichannel e-commerce.