Sometimes, encouraging the target audience to visit a website can be a difficult task. Social commerce converts social media users into customers without huge investments. Social commerce platforms are wise marketing & sales solutions for eCommerce businesses.
Social commerce is an important feature of social media #
Until recently, social media was used as a marketing tool to increase conversion rates by dragging users to visit an online shop. But things have changed: users no longer have to switch platforms because of shopping. Social commerce refers to buying and selling products/services through social media platforms. You can do the entire shopping procedure without leaving the social media platform. For example, have you seen the tiny bag icon on Instagram photos? Whenever the users come across it, they tap on the product they like and click on the shoppable tags. With a few steps, they're navigated to the checkout page. Social media platforms allow brands to create and publish catalogs, email campaigns, eCommerce stores, and more.
Benefits of social commerce platforms #
A lot of brands decide to be present on at least one of the social commerce platforms. Because of its many benefits, brands are implementing social commerce into their social media channels.
1. Growing audience #
As we know, social commerce is a mix of social media platforms and eCommerce. The number of active social media users is constantly increasing. Your target audience is there when you bring your brand to a social media channel. If you create content that amuses users and drives engagement, you can easily transform them into customers. Make sure to use the right keywords and hashtags in captions, so other users can quickly find you.
2. More traffic – more engagement #
The perfect recipe combines three ingredients: likes, comments & shares. Social commerce gives users a shopping experience along with socializing. Users engage with posts, buy products on social media, and share them with their followers.
3. Loyalty as a goal #
A trusted brand is the key to every successful business. Customer loyalty shows how often your customers come back to make new purchases with you. Building brand loyalty and trust means the brand offers customers excellent value. Using UGC or user-generated content on your social media channels can help build brand trust among your target audience.
4. Visual marketing with social commerce platforms #
People connect with visuals, and visual marketing encourages users to visit eCommerce websites. Social media channels aim to make users buy products while using the platform for other reasons. When posts have an option for purchase and are visually appealing, it helps to influence the audience to like the brand and make purchases. This phenomenon is called visual commerce. Visually attractive posts are often shared among users, and that helps create brand awareness.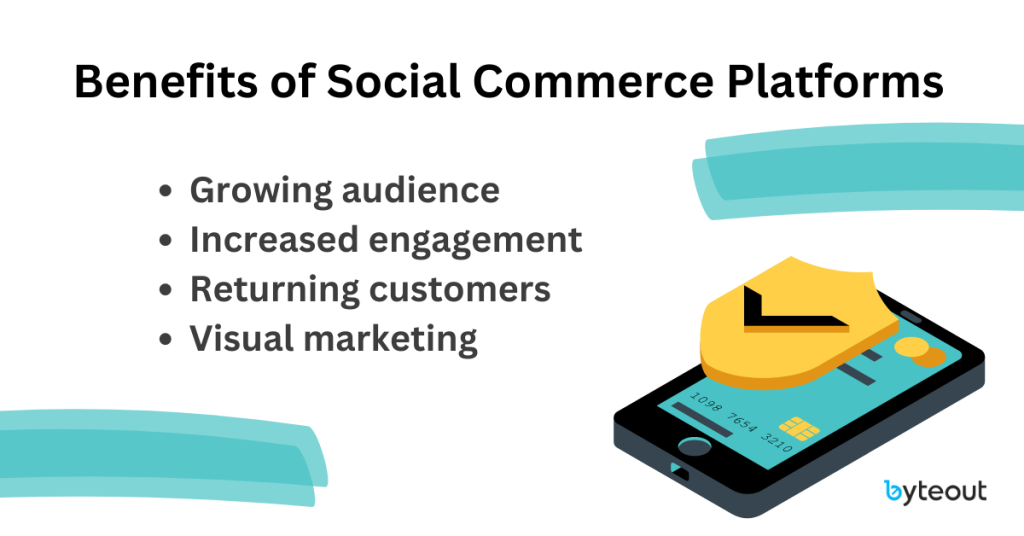 PROS and CONS of social commerce #
Social commerce can have pros and cons for brands and customers:
PROS #
Social commerce means opening another shop solution for low costs. That is great for retailers and small businesses. Since everyone is already on social media, social commerce is a perfect way to increase a company's visibility. Brands can create their image with GIFs, memes, TikTok videos, and Reels. Responding to comments helps develop a richer level of engagement and trust in the brand. The buying journey is much simpler, encouraging people to buy more and not abandon their shopping carts. 
For customers, social commerce delivers a product discovery journey and a shopping experience that is more intuitive and convenient since they're already familiar with social media platforms. People want to meet brands before they give them their money.
CONS #
While social commerce provides a lot of opportunities for brands, the question is who really 'owns' customers. When customers check out on a social media channel, their information is recorded by that platform, not by the retailer. That makes it harder for sellers to know their customers and offer them more personalized online and offline experiences. Don't forget that not all social media users want to shop on social media platforms. Social networks are fine for social interactions. Yet, people still prefer online shopping on retailers' websites. There is a lot of work to do before consumers start trusting social networks as places where they can leave their card details.
Examples of social commerce platforms #
Instagram #
With 1 billion active users, shoppable Instagram makes it easy for customers and brands to connect. Instagram has always offered great visuals to engage users. Users have always loved scrolling through their Instagram feed and catching up with trends.
Instagram has an in-app feature that allows users to explore and shop without leaving the app. By tapping on the post, users get the name and price of the product. Then they get navigated to the product detail page, and from there, to checkout. Instagram is still the most loved social commerce platform. Is your brand there also?
Facebook #
Facebook has always been a marketplace where people post about selling their stuff. That inspired the idea of creating a Facebook Shop as one of the social commerce platforms. Businesses can create a social shopping store on Facebook with a few easy steps. This allows small business owners to grow and connect with their target audience. Setting up a Facebook Shop will enable you to add products in different categories. This way, you get insights needed for analyzing shopping behavior.
Snapchat #
Snapchat has a wider use than taking selfies with its cool filters. Snapchat has partnered with Shopify. This partnership allows brands to create unique filters showcasing their products. Snapchat users can try these filters out if they wish to try the brands' products. They can click the pictures and post them on their Snapchat stories. Each picture comes with an embedded link to an eCommerce website.
YouTube #
YouTube shopping enables brands to create videos and use them as catalogs. This way, customers can explore and buy the products while staying on YouTube. Users don't have to pause or stop the video; they can shop while it is still playing. 
Also, YouTube announced the new Shopify integration that lets Shopify store owners feature their products across their YouTube channels.
Pinterest #
Pinterest has buyable pins that allow users to buy products from posts created by brands on Pinterest. The shoppable pin feature has helped businesses increase sales. Thus, businesses don't have to develop extra marketing strategies to influence users to visit their eCommerce website. Are you present on Pinterest? It is among the most popular social commerce platforms.
Amazon Live #
With Amazon live, brands are blending social shopping with influencer marketing. The ultimate goal is to generate traffic. Brands create live videos showcasing how influencers use their products. This way, they are influencing the viewers into buying the product.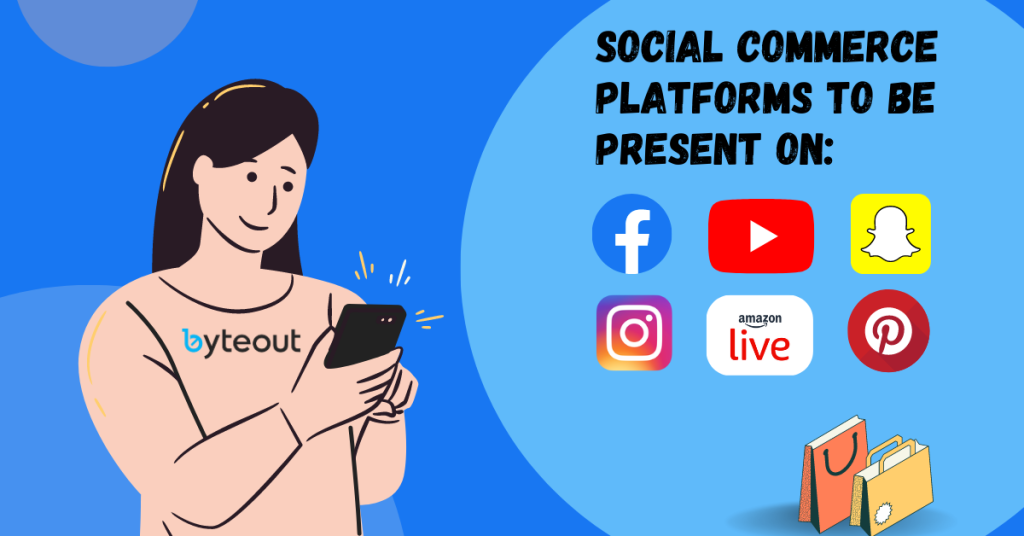 Conclusion #
Social commerce platforms have brought profit to many brands. The capabilities and use of social commerce have been increasing for years. Yet, social media platforms will not replace e-commerce websites and brick-and-mortar stores. Companies should focus on developing an Omnichannel approach. That allows customers to find brands and products easily, no matter the device or channel.
What are the difference between Omnichannel and Multichannel in e-commerce? Read about that topic here.