Customers' transition from physical to online stores is accelerating. So, every e-commerce business needs to work on increasing traffic continuously. The way to do so is to work on connecting with both new and old customers in the online space. Therefore, e-commerce companies use various communication tools to grow their business. Some of the communication tools are email, SMS, social networks, e-commerce, and push notifications. In the last few years, e-commerce push notifications have become one of the essential marketing tools to bring back customers to the shop.
Here, we will explain what push notifications are and why they are essential. Also, we will give you guidance on how to write push notifications that will help you solve the obstacles in e-commerce and bring you more sales.
What is an e-commerce push notification? #
A push notification is a pop-up message delivered directly to a user's smartphone if they have installed the mobile app or their browser, no matter which device they use. Push notifications are superior to email and other communication methods due to the delivery process.
E-commerce push notifications are much harder to ignore than a crowded email inbox. This guarantees that the user will see the message the next time he checks his smartphone. The study showed that push notifications had an average open rate of 20% in all industries, unlike email, which has an opening rate of 2%.
Mobile push notifications are shown directly to the smartphone user, like an SMS text message. If a user downloads your mobile app, you can send him push notifications. Pop-up messages will appear on the smartphone screen even if the app isn't open. This is the advantage of mobile push notifications instead of the push notifications in the browser.
Web push notifications are also pop-up messages that can be clicked on but are sent to visitors on browsers and appear right next to the taskbar. Web push notifications are delivered on a user's desktop or mobile screen anytime their browser is open. Users will get the notification no matter the device or the browser that they use.
Why are e-commerce push notifications important? #
E-commerce push notifications help e-commerce businesses send content-rich messages. These messages share important customer information, such as payment reminders, price reductions, promotional codes, etc.
E-commerce push notifications are also used to recover abandoned carts. For example, suppose the user adds items to the cart but, for some reason, leaves without ordering. In that case, a push notification can remind the user of an abandoned cart. Push notifications can also encourage the customer to complete the purchase giving the company a revenue boost.
E-commerce companies use push notifications to send personalized offers to their customers. Make a target group segmentation to increase the conversion rate and the customer lifetime value. Target group segmentation should be based on online user activity and previous purchase history. This should help your businesses in sending the right personalized messages. 
E-commerce push notifications help companies create a superior shopping experience. Also, push notifications make users return to the app and re-purchase.
How to write e-commerce push notifications? #
E-commerce push notifications are a simple marketing method, but writing good text within a pop-up message can be a real challenge. A limited number of characters (between 40 and 120) need to convey all the information and engage users. The message will be shortened if the character limit is exceeded, and users will not understand and react to it.
Welcome notifications #
This type of notification is the one that users should get when they install the app or register on your e-commerce website. Welcome notification is the one that will shape a customer's first impression.
Research showed that customers who purchase in the first 24 hours of downloading the app or signing up on your webshop are the ones that will most likely become your returning customers.
So, you should invest in creating high-quality welcome notifications. You can give them an exclusive offer or send your customer a push notification with a welcome coupon or discount code. If you want to make sure that your customers will make a purchase, state in the push notification that the offer you are giving them has an end date.
Cart abandonment notifications #
Many e-commerce businesses have a cart abandonment rate of 70%. What is known is that push notifications can reduce this rate.
It is enough to write push notifications reminding customers that products are left in the cart. If you have limited edition products, quickly remind your customers that the products won't be available much longer. This will create a FOMO, and the customer will hurry to purchase. Another tactic is to send a picture and the product name they left in the cart and maybe, offer them a discount.
What is more important than the content of cart abandonment notifications is the time when you are sending them. They should be sent when the customer is the most active on a device.
Retargeting notifications #
When it comes to this type of notification, a highly personalized approach will push your customers to return. You already know what your customer is interested in, so be careful not to create a notification with a product that is not for them. Feel free to include pictures of products when creating these notifications. Personalized e-commerce push notifications can bring a click rate of around 30%!
Order update notifications #
These notifications won't affect your sales directly but will affect how your customers see your business. It is essential to send them on time. Customers want a live update on the order, not retroactive information that is no longer relevant. This will let your customers know they can rely on you for accurate information, thus making your e-commerce business more trustworthy.
In order to update notifications, you can also mention the next steps of the order status, so customers can know what to expect.
Discount alerts #
There are many customers worldwide who are only waiting to shop for discounts. You should use this phenomenon to your advantage. For this type of customer, it is best to send push notifications for this type of information. That is because emails and SMS messages are less likely to be read in real-time than push notifications.
State clearly what the discount percentage is. Let your customers know what type of products are on a discount, and emphasize the proportion of this discount to influence the customers' early shopping decision-making.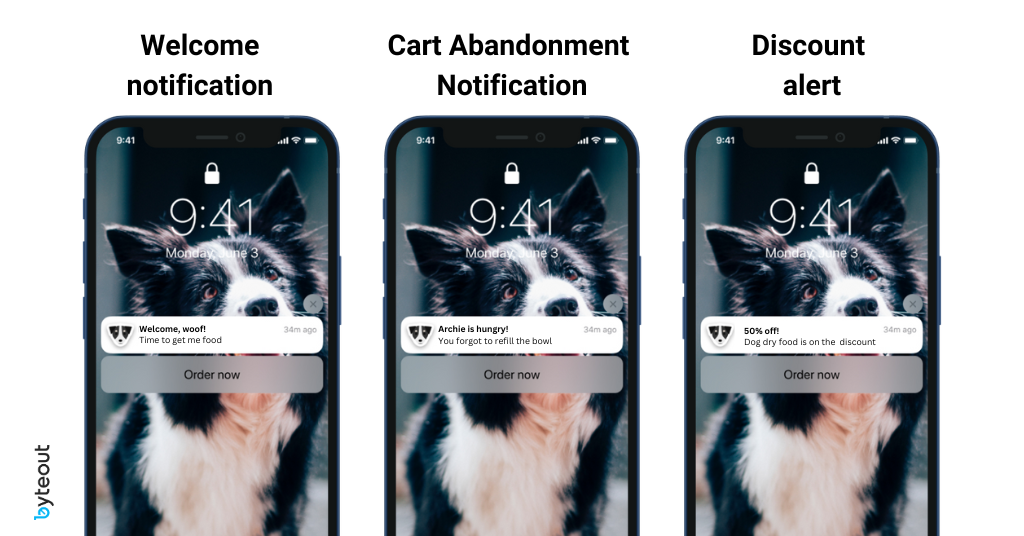 Focus on FOMO #
You can use FOMO in any of the notifications mentioned above.
There are many things that you can focus on to make a FOMO. For example, if you send a push notification to users saying there is a discount, you can either mention the phrase "last pieces" or "only available by the end of this week" to create a FOMO.
Just think about the things you fear to miss out on. You can brainstorm with your coworkers to think about all the FOMOs concerning your products.
How to get consent for push notification #
Before sending your user e-commerce push notifications, you must get consent.
All platforms, including web, iOS, and Android, have created systems to prevent unsolicited messages and notifications from reaching users. Because of that, you must use a system dialog to obtain permission from the user so you can actually send them notifications later on.
But to increase the chance your user will give you permission, you should prepare them. You can do it by giving them a reason for asking for approval. Also, you can explain how exactly you will use the notifications and what benefit they will have. This is a great user experience (UX) practice for e-commerce apps and will give your users more trust in your company and your app. This will also increase the percentage of users opting in for the notifications.
The following points should be considered when creating e-commerce push notifications for better results:
Clear message: Most people are impatient and do not read vague messages.
Superior value through the offer: A clear and concise message with the most crucial value offer is the key to push notification success.
Frequency is essential: Push notifications should engage subscribers but not overwhelm them. Sending messages too often can irritate subscribers and cause them to unsubscribe from the website or uninstall the app. On the other hand, sending too rarely may not be enough for the user to remember the brand and gain loyalty.
Time of sending push notification: The user is unlikely to respond to the company's offer in the middle of the night. Understanding the time zones and locations of global subscribers can help a company schedule messages. With messages at the right time, you will maximize conversions.
Promotional messages give better results when users are more relaxed and mentally ready to react and purchase. Try sending them in the morning or evening. On the other hand, funny messages work best during the afternoon when most people are bored and need something to encourage them.
Notification for you to remember #
Web and in-app push notifications are handy for e-commerce companies. They give them a broader marketing scope and help them scale their business.
Don't hesitate to use them. Just consider the timing and frequency of sending them to your customers. There are different reasons for sending push notifications. So make sure to write an effective notification depending on the customer's action.
Anyway, e-commerce push notifications are there to help you increase your sales.
Do you want to learn more about e-commerce? Continue reading about → Chatbot in e-commerce.