Working in a software company often lets us be the first to hear about fresh, amazing ideas. After 13 years of experience, we noticed a pattern of common behaviors people make when they want to turn an idea into a product. That road is filled with good decisions, but sometimes, mistakes steal the show. Skipping those mistakes could save you loads of time, so keep reading to learn how to turn an idea into a product.
How to know if your idea is a good one? #
Whenever we get in touch with our clients, we let them speak freely about the product idea, after which we start throwing questions on the table. Asking the right questions about their idea makes us understand them more. More importantly, it helps idea owners re-think their path to success.
What are the key elements of a good product idea? #
Telling whether an idea is worth pursuing is a very complex process, but there are some known key elements of a good product idea. A good product idea has the following qualities:
The most successful products provide solutions for consumers and businesses.
Ease of use is a significant component of a successful product. It's ideal if buyers can use products without extensive research or technical knowledge.
If you already have a formal marketing plan – that's great. But, if you still need to get it, think about strategies you would use to market the product to consumers.
Some ideas solve problems that are hard to explain. But explaining what the product does in simple language is a good sign that you have a good product idea.
A good product idea is not only cost-effective to build but also easy to scale.
Thinking about these elements can tell if the initial idea has potential or not. Not every successful product comes from the first idea bumped from the head. That's why it's important to talk about it with experts who can guide you and, if needed, transform and improve it.
A product idea with potential – from 0 to 1 #
Once we ensure that the product idea is good and has potential, we go further with the process. How to turn an idea into a product if you don't know from where to start? Before jumping into development, there are some steps you should consider doing.
Documenting the idea #
It's not a rare case that even before our clients share their ideas with us, we sign an NDA (non-disclosure agreement) with them. Sometimes, we notice that people are uncomfortable asking for this signature. We encourage them to do it and protect their ideas.
All great things come from great ideas, but ideas are infinite and intangible. Intellectual property is impossible to prove when you're claiming some idea as your own. Documenting your idea in a journal will help you track your process as you further sharpen your idea into the end result. Also, it stands as evidence that the idea is indeed your own.
Checking for patents #
Before investing too much time and money into a new product, you should check that it doesn't already exist. A simple search with the United States Patent and Trademark Office will let you know what's been patented. A general search will also give you an idea of what else is out there and who your potential competitors are.
Idea validation #
The first and most important thing to do is to confirm your idea. There is no use in continuing down this path if your invention or product doesn't do what you hope it will. It doesn't have to be a fully-fledged prototype (and it shouldn't be at this stage). It simply needs to show that your concept works.
Before investing too much time and money into patenting, do some preliminary research on your target market. Is this something people will actually buy?
Market research #
Understanding the market is the part where you determine whether there's anyone out there that is interested in buying your product. The first step is to determine if any products on the market are the same (or similar) to the product you are creating. Market research can help you learn how many consumers could use the product. A lot of time and effort goes into building a new product. The more you understand what's out there, the more prepared you will be for obstacles along the way.
Costs #
Once you know there's a market, make sure your product can be built or developed at a low enough cost to make your selling price reasonable. You can determine these costs by comparing the price of similar products on the market. This will also help you size up your competition. No matter how unique you think your invention is, the competition will be there.
Can you create the product to a necessary standard and sell it for a price the market will support? Knowing the product costs and profit margin will lead you to understand the retail price.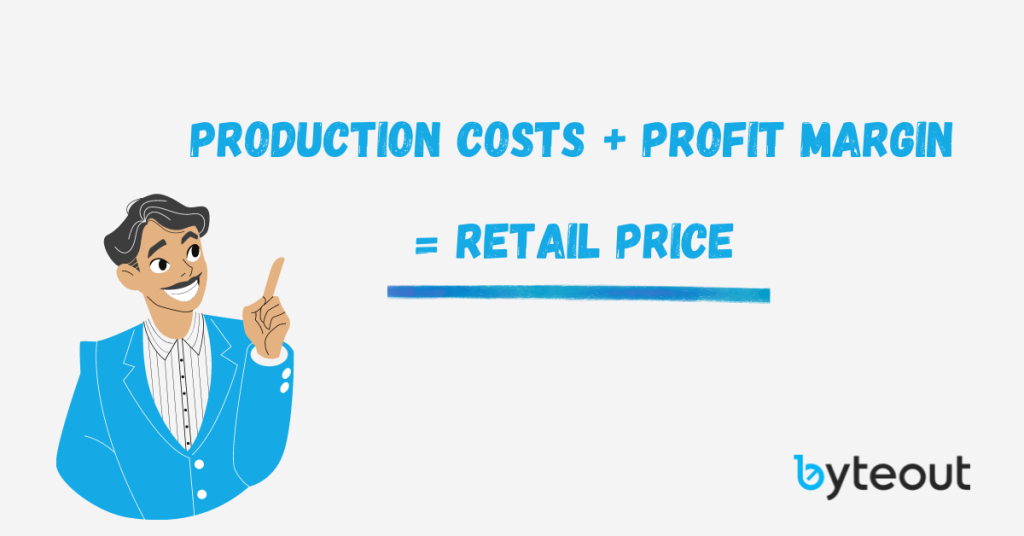 You first need to determine what retail price the market will support. A lot of research, questioning, and polls can be done here to get the answer you need. Do people feel they're paying too much for similar products and prefer something cheaper? Are people happy to pay more for a product that has more features? This is why market research is useful. It will tell you what customers are looking for and are willing to pay.
Making a prototype #
A prototype is an initial model for a product. Before you decide to launch a product, you may consider building it. If you think you don't need it because your product isn't touchable, here's what you need to know.
Building a prototype for your product idea can help you identify and solve design problems and other issues. A software prototype will display the product's functionality but won't hold the exact logic of the original software. It can be created to unify the product idea and development or to share it with external involvement. Sometimes, the prototype is built to evaluate the development process in terms of time and resources.
Consider filing a patent #
Once you have a mock-up of your idea and are ready to pursue your market, it's a good time to file a patent to protect your product. A patent is a type of intellectual property. It protects an invention from someone else copying or selling it without your consent for a certain period. You could opt to sell your product without a patent. However, business experts recommend obtaining a patent for several reasons, such as:
Protecting your intellectual property
Getting a product patent can help stop others from copying your product idea.
After filing a patent, you can discuss setting higher prices since others can't copy your product idea.
Getting a patent for your product idea can give your intellectual property a monetary value.
Market your product #
Once your idea is solidified, your next job is figuring out how to get it on the market. That means you'll have to make a business plan for your product idea. This includes whether you want to start a business to sell the product or sell the idea to an existing business. This process will also involve working on your pitch and presentation to attract investors.
Creating a business plan #
You can't do anything if you don't have a clear plan; make sure to have one before entering the market. Here are the vital components of a business plan:
You should have a clear goal for selling products or services and make decisions accordingly.
Identifying the goals of your new business can help you create a plan for achieving them.
Next, you can identify your target market. A target market is a sector of consumers you'll aim to sell your product to. The best approach is to create your ideal consumer persona and go into details as much as possible.
You can identify potential competitors in your target market to help you form a marketing plan for a new product.
A budget for business operations is an essential component of a business plan. It will show investors how you plan to spend the business's money.
Creating a budget can help you calculate how much revenue you want to sell by certain benchmarks.
You can briefly outline the authority structure of the company in a business plan. This can show investors who the decision-makers in the business are.
Understanding the competition #
Here's the truth. It doesn't matter whether there are similar products or if you're the first in the market. Don't get too excited if you're the first or too defeated if you're not. Currently being the only one selling that product doesn't mean that you'll be successful. You could go to the North Pole and be the first person selling ice cubes; it doesn't mean you'll be rich from it.
It's important to understand what sells and what does not. If you're not the first in the market, you need to understand the companies you're up against. Analyzing the competition will show the tiny differences. That's where your product steps in. Discover competitors' unique selling points and brand positioning. That way, you'll understand how to position your product from the beginning.
Filling a gap in the market is a good strategy for new ideas. That way, there's the opportunity to improve on what's available with a better product at a similar or better price.
The challenges of inventing #
Success in the world of innovation is all about timing. If you wait too long, someone else will capitalize on a similar idea and capture your niche. Your invention may be the first of its kind. But, the market might not be ready, and you'll have to fight an uphill battle to carve out a place for your product. Another big challenge is making the public aware of your product. Your idea may be great, but no one will ever know about it without a marketing plan.
Timing is everything with new products #
If a new invention is the first of its kind, you may face adoption problems. You will have to educate your target audience first before you manage to sell them anything. It may not be competitive in the market if it's too late. Knowing when to strike will make a difference in your product's success.
Find the support you need #
Developing your product requires research, prototyping, and practicing your elevator pitch. You shouldn't do it alone. There are plenty of resources available to help you along your path. Many experts are sharing their knowledge and experiences in podcasts. That way, you can easily find the answers to your questions. Also, you can hire experienced teams to help you in the first years while the business becomes stable.
Protection is a challenge #
Don't forget to take steps to protect your business, ideas, and personal assets. You distinguish yourself from the rest of the market by:
securing a trademark for your company name
incorporating your new organization
patenting your new invention
Bringing innovative ideas to life is not easy, but it can propel you into the business world and open doors. The first step to take when you decide to turn an idea into a product is to share it with the world and see what the reactions are. Some things that look elementary today, like electricity, were very hard to sell in the beginning. Also, you've seen how people react to AI. Give it a few years, and it will be completely normal for everyone in everyday life.
Planning a marketing strategy #
You can create a marketing plan to help you develop strategies for selling your product. Here are the steps to making a marketing plan:
Evaluate the product's strengths, weaknesses, opportunities, and threats. It will help you understand your product's current state in its market.
Identify the ideal buyer of your product and to what segment of consumers they belong.
Make goals for what you want your marketing plan to achieve. It's best to create time-based and specific goals to help you create achievable marketing processes.
Create marketing strategies
Define the marketing strategies to help you communicate with your audience and reach your marketing goals.
Lastly, create a budget for marketing the product to your target audience based on the goals of your marketing plan.
How long can it take to turn my idea into a product? #
Product development often takes three months to a year to complete. The time it takes to create a successful product can depend on several factors.
If your product idea is relatively complex or takes many materials, this could lengthen the product development timeline. However, if your product is relatively easy to build, this can hasten the timeline.
Funding may add to the production time if you need to acquire it to build a product.
After the testing phase, your product idea may have major issues that need to be fixed. This could add up to the development timeline for your product.
Tips for Success #
1) Don't do it alone.
There are many steps in the invention process. Taking care of everything by yourself can be overwhelming. By seeking professional assistance, you can be assured that certain elements of the process rest in experienced hands.
2) Do your research.
Inventing a product requires a lot of initial investigation, patience, and resilience.
3) Develop a prototype.
Developing a prototype will give you a clear view of the product itself, potential flaws, and other insights.
4) Work on your elevator pitch.
Even before you have a finished product to sell, you'll need to talk it up to your friends and professional contacts. Besides that, you can always practice in front of the camera and see what should be communicated better.
5) Test your product.
Remember that your product will not be perfect in its first iterations. You'll have to tweak the product along the way. Test continually with real consumers to figure out those changes in your invention. Get honest feedback from test groups to validate your idea.
Conclusion #
The whole process of turning an idea into a product can be really hard if you do it alone. To reach the production phase, you must go to many different parties who can help you with one thing. This can be stressful and exhausting, especially if you must align all parties to work together.
Bringing the idea to life is a challenge. The path of turning the idea into a product consists of many steps and actions. Validating the idea, creating a business plan, or planning a marketing strategy needs a lot of time. Usually, you won't be able to do everything by yourself. Finding all the services you need in one place will be best. When choosing a team that will work for you, try to find someone who is experienced enough to be your tech partner. It's crucial to find a business partner who will know how to guide and advise you according to your goals.
Now you know how to turn an idea into a product. Your next step is to start this journey.
At Byteout Software, we strive to provide everything our partners need in one place. If you are thinking of starting an eCommerce business, contact us. We will be by your side through the whole process.