Inbound marketing is distinguishable from classic techniques. The business triggers advertising, email outreach, and direct sales by sending a message to the consumer, which differs from the situation with inbound marketing. 
Instead, the client's focus is won when useful material is found online to lead conversions. Since the potential customer is searching for helpful information, he must be guided to make a sale. This is done by producing and keeping web content with added value, which the customer will immediately locate in his search.
Long story short, inbound marketing involves finding and connecting to possible customers through web content, topics, and solutions to specific problems.
Is the inbound marketing for e-commerce worth it? #
Inbound marketing is a customer-oriented approach that attracts potential customers through valuable content rather than interrupting them with ads.
Creating relevant and valuable content that addresses the target audience's needs and pain points is powerful. By providing value to potential customers, businesses can attract them to their websites and social media channels. That way, customers can engage with the brand and become loyal customers.
Some of the most known inbound marketing tactics include content creation, social media marketing, search engine optimization, and email marketing.
By using these strategies, businesses can create a solid online presence and establish themselves as leaders in their industry. Providing value for customers helps companies build trust and credibility, leading to increased sales and customer loyalty.
Marketing experts specify that inbound marketing is the primary strategy to produce profits on the Internet. As a result, inbound marketing is an essential part of the company. Acquiring the attention of potential consumers is vital for the success of inbound marketing and marketing actions in general, which is increased by different channels.
Website visitors brought by intriguing content are more qualified leads with more intent to make a sale. The potential customer's attention is on point if the material matches the visitor's search request. The last action is transforming as many clients as workable into regular customers.
HubSpot, for example, can be used for the reliable execution of inbound advertising. The web content used to produce leads is essential in successful inbound marketing.
Content marketing can consequently be recognized as part of inbound marketing. Blog sites, podcasts, web videos, e-books, infographics, or white papers can answer and satisfy customers' formal inquiries and needs. The approach complies with: Visitors can be turned into customers by producing premium content, and more site visitors can be attracted by dispersing that content through various channels.
How does inbound marketing affect SEO? #
By providing high-quality content that meets the needs of potential customers, inbound marketing can help businesses to establish trust and authority in their industry. In turn, this can positively impact SEO by increasing the visibility and relevance of the website in search engine rankings. 
Inbound marketing strategies like engaging blog content and optimizing website structure and keywords contribute to SEO performance. By prioritizing inbound marketing efforts, businesses can drive more traffic and sales to their website.
The content must be findable if SEO is understood as an indispensable part of inbound marketing. The material needs to be created so that it can be found by potential customers, and this starts with selecting keyword phrases, link building, and on-page optimization.
Consumers generally begin their search with keyword phrases. For that reason, connecting the material to the appropriate keyword is critical. It is essential to mark up the material appropriately depending on the kind of web content to attract clients. For example, photos should be labeled with an ALT attribute, or videos should have a concise summary and relevant key phrases.
Long-term success can be obtained by using different SEO tools.
Inbound marketing methods for e-commerce #
Inbound marketing for e-commerce implies drawing potential consumers to the online shop with appealing and appropriate material to raise conversions. Keeping that in mind, we will list helpful methods to increase e-commerce inbound marketing results.
Strong content strategy #
High-quality content targeted to the ideal customer can help drive website traffic and boost search engine rankings. Researching the audience's interests helps create valuable content that informs or entertains, increasing the likelihood of engaging. This can include blog posts, social media content, videos, and other media the audience is interested in.
Email marketing for e-commerce #
Email marketing is a powerful tool for staying connected with customers and building long-term relationships. Sending personalized and relevant emails to subscribers is easier to keep them engaged and informed about the latest products and offers. This can help increase customer loyalty and encourage repeat purchases.
Shoppable posts on social media #
Many e-commerce businesses utilize Instagram, Facebook, Tik Tok, and other media for advertising and marketing objectives to get to brand-new consumers.
But with shoppable posts, potential customers can purchase products directly on the social media channel, boosting the number of incoming visitors to the store.
Customers as brand ambassadors #
Encouraging customers to leave feedback on the website and social media channels can also help improve web rankings and increase traffic.
Positive reviews and testimonials can showcase the quality of products and services.
Responding to negative reviews professionally and helpfully can show potential customers that a brand is committed to customer service.
Creating useful blog posts #
Blog posts can address the requirements of possible customers. When several consumers look online for a typical demand, a brand can offer content regarding that topic.
For example, if an e-commerce business sells kids' shoes, it can write blog posts on these topics: How to measure children's foot size or What shoes are best for kids. If done well, the company could become an expert on the subject and an authority in the niche.
Engaging customers with interactive content #
Interactive content is a great way to engage customers and gather insights into their preferences and behaviors. Quizzes, surveys, and polls are interactive content businesses can create.
Asking the audience questions and providing personalized results is a fun experience encourages them to spend more time on a website. Additionally, the collected data from interactive content can be used to improve marketing strategy.
Combination of augmented reality (AR) and virtual reality (VR) #
AR has become an important trend toward increasing conversions, and VR is already transforming how we communicate, buy, watch, experience, and even run a business.
AR and VR have become significant factors for a successful e-commerce business, but remember that it isn't for every type of business. It highly depends on a niche, and one of the best industries to utilize AI and VR are:
Healthcare
Education
Travel
Retail
With augmented reality and virtual reality, buyers get a much better sight of what they're getting before finishing the purchase. In addition, AR enables potential buyers to add a product to their setting before purchasing, showing precisely how a product can fit into an environment.
IKEA's application permits users to view better what they're purchasing. This technology is eye-catching to potential IKEA customers with high rankings; for digital marketing professionals looking for new instructions for inbound e-commerce marketing, AR and VR allow the company to exceed the competition and engage customers online.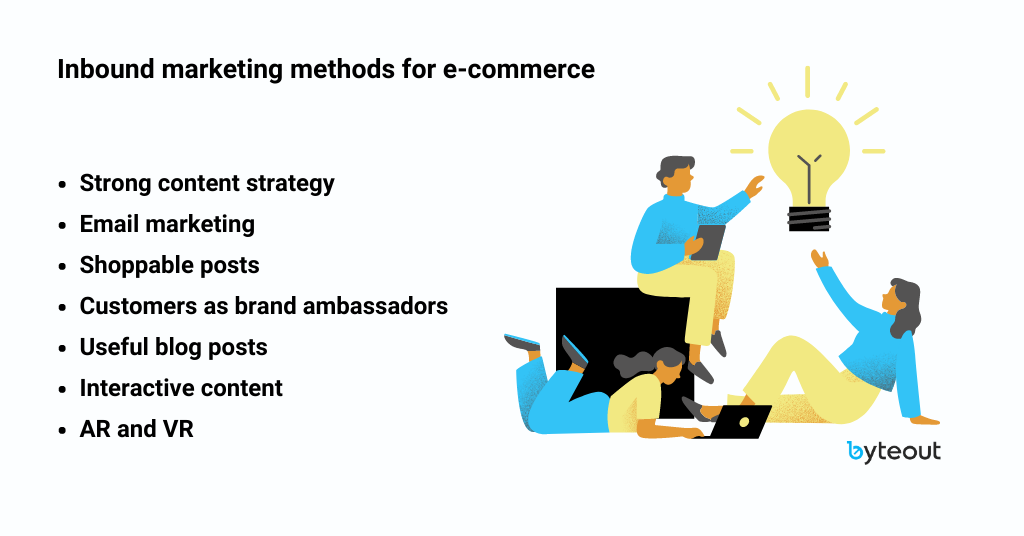 Summary #
Inbound marketing helps e-commerce businesses to attract potential customers, build trust and credibility, and increase sales.
If a brand creates valuable content that meets customers' needs and interests, it can become a leader in the industry.
Businesses can create a seamless customer experience that encourages repeat purchases and positive feedback by prioritizing a solid content strategy and engaging with customers through various channels.
Inbound marketing is an ongoing process that requires consistent effort and adaptation. Still, the long-term benefits can be invaluable for businesses looking to succeed in the competitive world of e-commerce.
Do you want to learn more about e-commerce? Continue reading about → E-commerce affiliate marketing.