An e-commerce roadmap is a visual communication tool suggested for every e-commerce business. Let's keep it simple: an e-commerce roadmap is like a map that shows the steps a business needs to take to reach its goals. This roadmap aligns with the advertising, layout, merchandising, and development efforts to grow an e-commerce business.
It's designed to help all team members understand how their efforts fit into the bigger picture. By outlining the key initiatives, goals, and timelines, the roadmap provides clear direction for everyone involved.
Think of it like planning a road trip. You need to know where you're going, your route, and when you'll get there.
By having an e-commerce roadmap, you can stay on track, avoid distractions, and make sure everyone is working together. It's like having a clear picture of what you're doing and where you're going.
The company roadmap's content will depend on the organization's stage. If an e-commerce business is a start-up, this will differ from a well-established organization with many customers.
Should I do a website audit? #
A website audit is a thorough analysis of an e-commerce website's performance. Doing a website audit is important because it shows the areas for improvement. What issues could be stopping a website's growth? Site speed, usability, and search engine optimization can affect the website.
The findings from the website audit will then serve as a guide for the e-commerce roadmap. It will help you set realistic goals, prioritize tasks, and allocate resources to areas needing attention. So, a website audit is vital in creating a practical e-commerce roadmap.
Which e-commerce platform is the best, and how it affects the e-commerce roadmap? #
Are you finding difficulties in choosing the right e-commerce platform? Many businesses changed their mind and switched to a different platform. When choosing the e-commerce platform, consider if it has what it takes to support your business in the future.
There are several factors to consider when selecting an e-commerce platform. The cost, functionality, scalability, security, and ease of use would be best. The right tools for payment processing, inventory management, shipping, and customer service can help you or give you a headache.
From a business side, the right platform helps streamline all e-commerce operations. But it should be established to meet the customer's needs.
Both platform and tool selection also affects the e-commerce roadmap. If you choose a platform that could support worldwide sales, you can use it later as an opportunity to expand your business globally. Also, if you select a tool that automates shipping, you can use this to reduce shipping costs and improve delivery times.
How to create an e-commerce roadmap? #
Make an action plan outlining the specific tasks, timelines, and responsibilities to achieve goals.
Creating an e-commerce roadmap depends on the overall goals, target market, resources, and current state of the e-commerce business.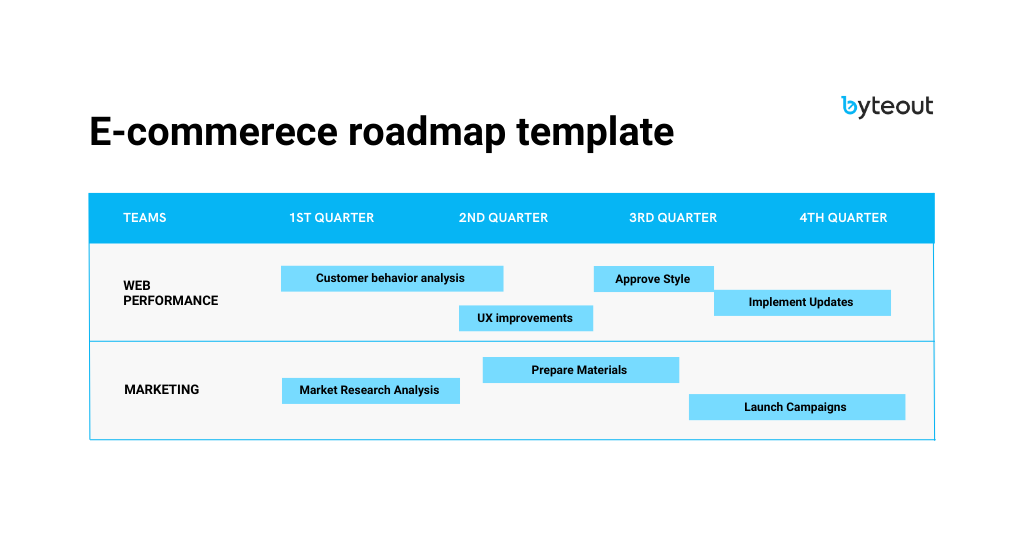 Short-term and long-term goals as a guide for the e-commerce roadmap #
Defining your business goals is the first step toward creating a successful e-commerce roadmap, which involves identifying short-term and long-term objectives.
Short-term goals include increasing website traffic or improving conversion rates, and long-term goals include expanding into new markets or increasing revenue. By clearly defining your business goals, you'll be able to create an e-commerce roadmap that is realistic, effective, and has a clear focus.
Your goals will serve as guideposts, helping you decide which strategies to pursue, which tools to use, and which metrics to track. So take the time to define your business goals and let them lead the way. Remember the resources required to complete each task, such as staff, budget, and technology.
To define goals, use the following questions:
What are you trying to achieve with your e-commerce business?
What are your revenue targets for the next year, three or five years?
What are your target markets and customer segments?
What products or services will you sell?
What is your unique selling proposition (USP)?
Your goals should be SMART: Specific, Measurable, Achievable, Relevant, and Time-bound. 
Customer behavior as a starting point for e-commerce roadmap #
You've heard this a million times, but understanding the target market is vital for online shopping strategy. Consumer behavior and habits are switching faster than ever. By analyzing, it can assist the company in seeing who their customers are, what they are purchasing, and how they're finding their brand. Also, don't forget that analyzing the market and competitors could help identify opportunities and threats.
Consider researching the following:
Industry Trends: What are the current and future trends in your industry?
Competitors: Who are your competitors? What are their strengths and weaknesses? What are they doing that you can learn from?
Customers: Who are your target customers? What are their needs and wants? What motivates them to buy?
Since customers are the core of an e-commerce business, let's see what you can do about it. Understanding customer preferences can help optimize your e-commerce website to provide a better user experience, improve customer engagement, and drive more sales.
Imagine that you analyzed customer behavior and identified the most popular products, pages, and search terms. You can use this information to prioritize product development, optimize website layout, and personalize marketing campaigns. Understanding customer behavior and preferences is a starting point for developing a practical e-commerce roadmap.
Cryptocurrency as a way of paying #
It has already been two years since PayPal announced that its individuals could hold virtual coins in their digital wallets. Many people are ready to use their online money for e-commerce shopping, and the company will unlock new audiences by allowing customers to use different currencies at checkout.
Be wise: use information across all touchpoints #
When the e-commerce business recognizes its audiences and digs deeper into buyers' psychology, it can use data for targeted marketing.
Loyalty program for e-commerce business #
An undeniable commitment program is important for every e-commerce roadmap. A loyalty program engages customers to return and make a purchase.
Some examples of this are individualized discount rates from Boots, Walgreens, and Amazon. It boosts customer commitment, enabling the company to obtain more customer data and encourage them to return. Returning customers is valuable for every business.
Conclusion #
An e-commerce roadmap is a vital tool that outlines the key initiatives and goals to maintain or expand an e-commerce business. It provides clarity and direction for everyone involved in the e-commerce process and helps team members understand how their efforts fit into the bigger picture.
To create a practical e-commerce roadmap, businesses should conduct a website audit to identify areas for improvement and choose the right e-commerce platform and tools. Defining short-term and long-term goals and understanding customer behavior will help businesses create a focused, realistic, and practical roadmap. Following these steps, companies can create an e-commerce roadmap to drive growth and success in the online marketplace.
Do you want to learn more about e-commerce? Continue reading about → E-commerce branding.